Kathy resides safely at Ludeman Center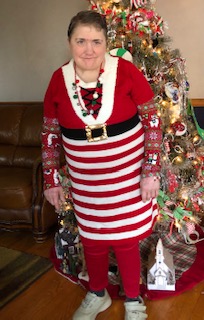 I'd like to introduce you to our sister, Kathy, who is Developmentally Disabled and suffers from epileptic seizures. Kathy lived at home with her family until she was 15 years old. During her younger years, she would get frustrated with her limitations and at times take that frustration out on other family members. My parents needed to find a residential setting that could help Kathy deal with her abilities and limitations.
In the 1960s, residential services in Illinois were limited and did not encourage the individual to develop to their potential. Kathy moved to Missouri and lived in two different private residential facilities.
In 1983, the second private residential facility closed and Kathy was moved back home. Her maladaptive behaviors had increased to the point that my parents could no longer manage her needs at home.
In 1983, Kathy became a resident of the Elisabeth Ludeman Center in Park Forest. The Ludeman Center staff had the training and was able to redirect Kathy's maladaptive behaviors. It took patience, understanding and years for Kathy to overcome these challenges.
In 2005, Kathy's evaluation indicated she was ready to move into a community setting. Kathy moved into a brand-new home in the community. Kathy's maladaptive behavior was active again and she also required extensive surgery, which was successful. She was admitted to 10 hospitals in 12 months for her behavior. The community setting could no longer meet her needs and the Elisabeth Ludeman Center did not have any openings.
With no place to go, Kathy was admitted to two different sub-standard nursing homes that were unable to meet Kathy's needs. Her physical health decline was so severe while in the nursing home, she was rushed to the hospital; an Emergency Room physician asked if a DNR (Do Not Resuscitate) was in place.
Finally, in 2008, Kathy was re-admitted to Ludeman. They have re-directed her behaviors again, did physical therapy to undo the lack of care at the nursing homes and she is back to being my sister again.
The Elisabeth Ludeman Center has, and continues to meet Kathy's needs as well as re-direct her maladaptive behaviors in a safe environment that is supported by the Ludeman Administration's highly trained support specialists, and the house staff that truly understands and provides extensive support to meet Kathy's needs so she can enjoy life despite the daily challenges of being Developmentally Disabled.
I know there are organizations that are working very hard to close the state community campuses that provide extensive services based on the individual's needs. I want people to know that just like you and I, our need for treatment and care changes as we experience the progression of life. The Developmentally Disabled have those needs too. The Developmentally Disabled community has a right to housing and appropriate services based on their needs and choice, not on budget reductions and lobbyist agendas.
Thank you, Ludeman Center, for protecting and saving our sister from an unknown outcome for her quality of life.
Kathy's Grateful Sisters,
Sarah Ross and Pamela Hill
PFLC Board Members since 2000